Late last week the students participated in a LEGO challenge. Each table was given "a bunch" of different LEGO blocks and given challenge sheets to complete. On the LEGO challenge cards were engineering design challenges that the students were to build solutions to using LEGO bricks.
Some of the challenges included:
Name Challenge – students were challenged to engineer themselves a name tag using LEGO Bricks.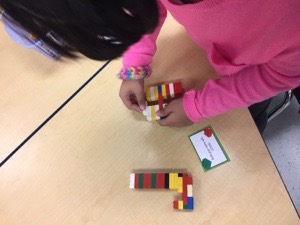 Bridge Challenge –  A LEGO person who lives in Canada wants to visit his LEGO friend in England. To get across the ocean that separates Canada and England, the LEGO person can only drive. Engineers were challenged to build a bridge that was strong and sturdy so no LEGO people fall into the ocean.
Make something Symmetrical  – Engineers were challenged to build a structure that was symmetrical.
Make a LEGO boat and see if it will float – Engineers were challenged to build a boat made of LEGO and test it to see if it floats.
The students loved these challenges and we will continue to do more. These challenges promote communication, problem solving and critical thinking skills.
These challenges can also easily be done at home! So challenge the engineers in your life to an afternoon LEGO challenges!